Annapurna Round Trek
Nepal Tour/ Annapurna Round Trekking, (20 Nights 21 Day Plan)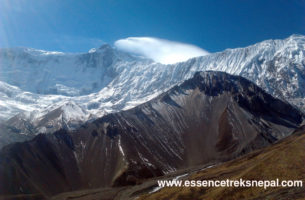 Annapurna Circuit trekking is one of the famous trekking trails in the world.  Northern part of Nepal is covered by Himalayas, this trails is lies of part of Great Himalayan Trail. Since 1960 decade the trail was opened for normal trekkers and still every year more than 100 thousands peoples are doing this trekking.  because of beauty full Himalayan range with old highest pointed lake Tilicho lake and great pass of the world Throng-La Pass this trekking rout is famous among trekkers all over the world.
Essence treks also make own day by day itinerary to cover all important and beautiful palaces of this trails which is Given Below:-
Day by Day Itinerary:-
 Day o1: Arrive Kathmandu, Transfer to Hotel in Kathmandu, O/N at Kathmandu.
Day 02: Kathmandu Sightseeing, Preparation of trekking, O/N at Kathmandu
Day 03: 06:30 Drive to By Jeep/Van 5 Hr. 173 KM. After Lunch Drive to Nadi Bazar, 2 hr. 13 Km, O/N at Nadi 920 Mt.
Day 04: Trek to Nadi Bazar to Sange 11 KM, 5-6 Hrs. Via Bhaundanda 1340 Mt. o/N at Sange  1100 Mtr.
Day 05: trek to Tal from Sange  12 Km, 6-7 hr. O/N at TAL 1700 Mt.
Day 06: trek to Timang 12 KM 6-7 Hhrs., O/N at Timang ( best vier of manasalu 8163 Mt. Mountain)
Day 07: Trek to  Chame 7.8 Km, 4-5 hrs. O/N at Chame (A District Headquarter of Manang) 2670 mt. O/N at Chame 2670 mtr.
Day 08: Trek to Pisang 14 Km, 6-7 hr. O/n at Pissang 3200 mtr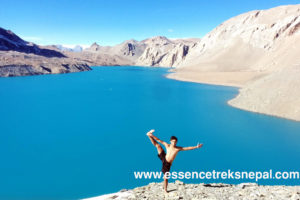 Day 09: Trek to Manang, 15 km , 7-8 hr. O/N at Manang 3540 mtr.
Day 10: rest Day in Manang (acclimatized to Ice Lake 8 km, 3-4 hrs. O/N at Manang 3540 mtr.
Day 11: trek to Shree Kharka 5-6 hr. 9.2 Km, O/N at Shree Kharka 3800 Mt.
Day 12: Trek to Tilicho Base camp 5.2 km, 2-3 hr. 4150 mt. O/N at Tilicho Base camp.
Day 13: Trek to Tilicho Lake view point, 4950 mt. 5.4 Km. 2.30 Hrs. Back to Hotel and trek to Shree Kharka 6-7 hr. O/N at Shree Kharka 3800 Mtr.
Day 14: trek to Yakkharka 10 KM, 5-6 hr. O/N at Yak Kharka 4081 mtr.
Day 15: Trek to Thorung High Camp 8.1 km, 6-7 hr. include rest and lunch at Phedi ( 4450 Mt.) O/N at Thorung High Camp (4952 mtr).
Day 16: 05 am trek to Muktinath via Thorung-La Pass( world's Biggest Pass,5416 mt.) 14 km, 7-8 hr. O/N at Muktinath 3860 mtr.
Day 17: Trek to Jomsom via Lupra Village 17 Km, 7-8 hr. O/N at Jomsom 2720 mtr.
Day 18: Drive to Tatopani 48 km 4-5 hrs, O/N at Tatopani ( A natural Hot Spring) 1190 mtr.
Day 19: Drive to Pokhara 105 km,7- 8 hrs. O/N at Pokhara 900 mtr.
Day 20: Drive to Kathmandu 215 Km. 6-7 Hr. O/N at Kathmandu.
Day 21: last Min Shopping at Kathmandu, Drop to Airport accorduinto Flight time and back to Home.
Important Destination on Trial: Sange, Tal, Chame, Manang, Tilicho Lake, Thorug-La Pass, Muktinath, Jomsom, Tatopani etc.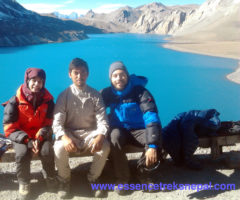 Check List: –
Clothing & Equipment Packing List:-

Sun hat, scarf and/or bandanna
2. Light balaclava or warm fleece hat
3. Sunglasses with UV protection
4. T-shirts x 2 quick-drying synthetic
5. Light & expedition weight thermals
6 Fleece jacket or pullover
7. Waterproof shell jacket
8. Down vest and/or jacket
9. Lightweight gloves
10. Heavyweight gloves or mittens
11. Underwear x 4
1 2. Hiking shorts (2)
13. Lightweight hiking long pants
1 4. Light & expedition weight thermals
15. Thin, lightweight inner sock liners (2)
16. Thick, warm wool hiking socks (3)
17. Worn in hiking boots and spare laces
18. Sleeping bag
19. Headlamp w/ spare bulbs and batteries
20. Hiking Bag 75 L
4. Basic First Aid Kit/regular medication
21. Day bag
22. Daypack (approx. 2500 to 3000 c.i.)
23. Thermarest sleeping pad
24. One liter water bottles x 2
25. Toiletries
26. Small wash towel
27. Trekking poles (optional)
Fleece or wool pants
29. Waterproof shell pants
Camp shoes
31. Gaiters 
Package Excludes:
All trekking permits (Annapurna Conservation Area Project and TIMS)
Private car for transportation to and from the trekking Airport. & bus/ jeep/van transportation to and from till starting points of trekking Trails
All meals with tea or coffee
Lodge accommodation during the trek
Trekking with English-speaking guide and porter with full insurances
Fruit and chocolate dessert from guide side.
Hotel accommodation in Kathmandu and Pokhara in BB plan.
Package Excludes:
Bottled drinks and beverages
Evacuation (will be done in your account)
Tips (Service Charge in Hotel and Restaurants are included)
Single supplement Charges
Lunch & Dinner in Pokhara/Kathmandu or away from the trek
Tea breaks, chocolates or other snacks and any meals beside breakfast, lunch and dinner.
Delay and cancellation because of natural phenomenon
Anything which is not specifically mentioned above.
for More Information email us: essencettt@gmail.com
Thank you!