Upper Mustang Trek In Nepal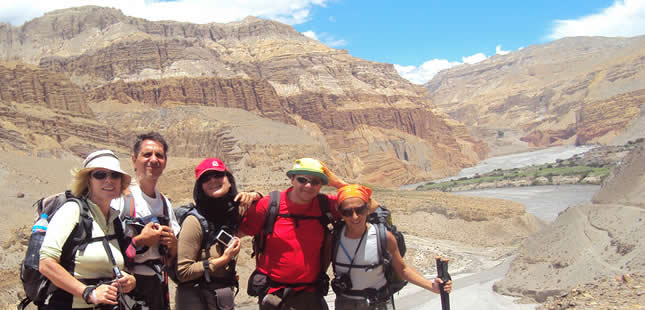 Group Size Min.2,
Min. altitude 2750m
Max. Altitude 3780m
Transportation By tourist bus from Kathmandu/ Pokhara/ Kasthmandu and flight from Pokhara to Jomsom and Jomsom to Pokhara.
Trek Duration 16 Days
Mustang Valley Trek

Mustang trekking is one of Nepal's most mysterious and least known kingdoms. The landscape of Mustang is a barren moonscape of eroded sandstone pillars and discontinuous moraine terraces, which together present a colorful mosaic made up principally of earthen reds, yellows and brown. It is relatively easy trekking along the permitted route to Lo Manthang, which lies in the very heart of Mustang. The trek to Mustang is through an almost treeless barren landscape. Strong winds generally howl across the area in the afternoon, generally subsiding at night. Being in the rain shadow of the Himalaya, Mustang has much less rain then the rest of Nepal.
Mustang trek lying in the rain shadow of the Himalayas is perhaps the last enclave of pristine Tibetan culture. Forbidden & isolated from the rest of the World it was able to evolve its own distinctive culture and traditional which is so rich & unique. Lo-Mustang, the capital is walled city ruled by religious king. Untouched by modern civilization, life in Mustang goes on as it has for centuries in unhurried pace. As everywhere in the Himalayas, this area provides spectacular mountain scenery highlighted by Dhaulagiri at 8167 meters (26,795ft) and Annapurna I at 8,091.00 meters (26,545ft). You will be surrounded by more than 35 mountains over 6000 meters (19,680ft) high. The elevation of the trails rise from 2815 meters (9,233ft) to 3780 meters (12,398ft) above sea level.
General Itinerary:
Day 01/ our staff will pick you up at the airport and transfer to the hotel.
Day 02/ Kathmandu sithg Seeing, Stay over Night in Hotel
Day 03/ Kathmandu to Pokhara 900 meter. O/N at the hotel in Pokhara. Driving 5:30 hours,
Day 04/ Pokhara Jomsom by flight 30 min and trek to – Kagbeni 2847 meter. 3 hr.
Day 05/ KAGBENI to CHAILE 3050 Meter. Walking 5:30 hours
Day 06/ CHAILE to GELING 3500 Meter Walking 6 hours
Day 07/ GELING to CHARANG 3620 Meter Walking 5:30 hours
Day 08/ CHARANG to LO-MANTHANG 3840 Meter. Walking 4 hours
Day 09/ EXPLORE AROUND LO MANTHANG.
Day 10/ Trek down from Lo Manthang – Ghami. Walking 5:30 hours
Day 11/ Ghami – Samar. , Walking 6 hours
Day 12/ Samar – Kagbeni. Walking 6 hours
Day 13/ Kagbeni to Jomsom. Walking 3:30 hours
Day 14/ Fly back to Pokhara. at the hotel in Pokhara, & Sight seeing in Pokhara, stay Hotel in PKR
Day 15/ Drive back to Kathmandu. at the hotel in Katmandu, Driving 5:30 hours
Day 16/ Departure from Nepal.
If you have remained more holidays you can make 2 nights 3 days chitwan jungle safari trip.
How to we do trekking in Mustang
Mustang Valley Trekking can be organized camping (Tented Camp) and tea house as well. On a camping trek you will sleep in tents. The staff includes a guide, cook, Sherpa and sufficient porters to carry all trekking gear. Even if you have never camped before, there is no need to worry that you won't enjoy the experience. The tents we provide are roomy, the sleeping pads/ mattresses are comfortable and international style food of a high standard is freshly prepared and served. On all of our treks a bathroom tent is provided as well as a dining tent with tables and camp stools, providing a cozy, comfortable atmosphere to eat and chat with fellow trekkers during the evening. Now a days mostly you can do tea house trek, which is more chipper because we don't need to hire all this which is need to make camp and staff, food with us, we can find in the place as our itinerary.
For More Information please contact us.
Email: essencettt@gmail.com, 24 hr.  call +977-9856037116