Mardi himal machhhapuchhre trek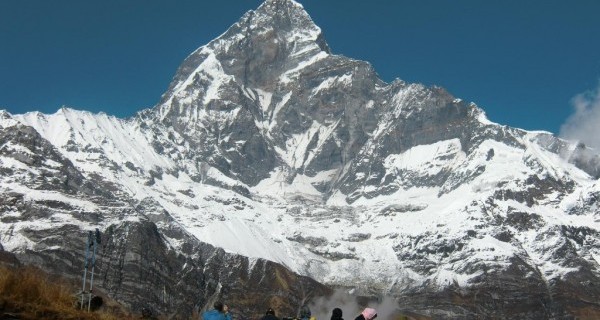 This trek offers the opportunity to escape Nepal's tourist trails to venture in to the deep forests and roam the high alpine pastures that flank the Annapurna ranges. The emphasis of the trek is on the forest and wilderness zone of these mountains. Some villages are visited on the last days of the trek and these receive few visitors and retain much of their traditional charm. There is an essence of exploration on this trek. The trails we follow are not well used and sometimes hard to identify. Sometimes shepherds and pilgrims pass by. Our Annapurna /Machapuchare trek is designed to provide outstanding mountain views, and to get away from the tea-house trails and into the forests and villages that have not felt the impact of tourism.
ITINERARY
Day 01 Pokhra-Dhampus Duration: 30minute drive and 2hrs trek.Height: 1600m After break fast drive to Phedi via Tibetan camp and steep climb up to Dhampus village one of the big Gurung village. Spectacular panoramic views of Annapurnas.
Day 02 Dhampus – Forest camp Duration: 6 hrsHeight: 2480m Today we will start our secret trail leaving tourists, other trekker and even villagers behind. Trek enter an enchanted forest of birch, giant rhododendron, mountain oak, maple, hemlock and daphnia, camping in a small clearing far from the beaten trail.
Day 03 Forest camp-Humal Duration: 5hrsHeight: 3150m As we climb, the flora has turned to classic cloud forest with mosses and lichen, tree ferns and orchids hosted by the hardier trees. There are natural windows in the woods that look out on to thrilling panoramas towards Hiunchuli and the knife-sharp traverse towards Annapurna South. Far below, to left, can see the Modi Khola valley leading up into the Annapurna sanctuary. Though still surrounded by forest, have spectacular northerly views of the ever-closer Fishtail.
Day 04 Humal – Guhe Duration: 4hrsHeight: 4100m Just a short steep climb and out of forest. A ridge, now grassy and sometimes under snow, takes us up to high camp which we shall reach at lunch time and where a second consecutive afternoon is spent awestruck with the views and acclimatizing. Annapurna South seems near enough to touch.
Day 05 Ghue – Machapuchhare Base Camp–day hikeDuration: All dayHeight: 4100m Hike up 5000m Breakfast will be earlier than usual. Then with packed lunch, set off to reach objective. Conditions being favourable, trip can reach up to 5000m and only the crest of Mardi Himal itself separates from the south face of Machhapuchare. The great ice fields and blue glaciers of the Sanctuary Wall lie below. Annapurna I, highest of all is beyond, and around, in an arc from horizon to horizon, from Dhaulagiri to the Mustang, are a dozen or more glistening snow- bound giants. Standing on a spot that has been constant aim for days now. A place, a time, a view that is almost impossible to equal –and earned it. Whatever achievement, by 1:00pm and back trip to camp.
Day 06 Ghue-Sedding Duration: 7hrsHeight: 1500m After a relaxed breakfast, tired bodies make an unhurried descent through the shade of the forest, and out onto terraced fields, down 1600m in all. This is a different route down-down to the upper Mardi Khola, the torrent that has been the ice and snow of the Mardi Himal. Although remote and still away from the much-used 'Tea – house' trekking routes, our expedition now takes on the moods of the warm valley and the friendly villages. Here, we make our way along the banks of the Mardi Khola from the hill – side village or siding, down through the lovely fields, past the simple farms and over the interesting bridges. There is no doubting this is indeed the idyllic Nepali countryside.
Day 07 Sedding- Duration:Height: 1500m Mardi Pul – 1,160mSo the Earth does have flat places! The path from siding now follows the contour of the river valley gradually down between the pastures and through the Tamang and Gurung villages. Our tents, familiar to us in rugged mountain landscape, look a little incongruous this evening planted here among the paddy.
Day08  Sendding – Thulo chaur Duration:Height: 1600m
Day 09 Thulo chaur – Ghachock Duration:Height: 1150m
Day 10 Ghachock – Pokhara Duration: 3 hrs walk and 1hrs drive. Height: 960m There are just a few hours of walking – the trail skirts an outcrop – there's the road, there's our transport, and soon we're back in Pokhara for our last lunch. This last afternoon is spent showering and relaxing. Some have enough energy for rowing on the lake, others only for lounging in pie shops.
Day 11 Pokhara