Everest Base Camp Trek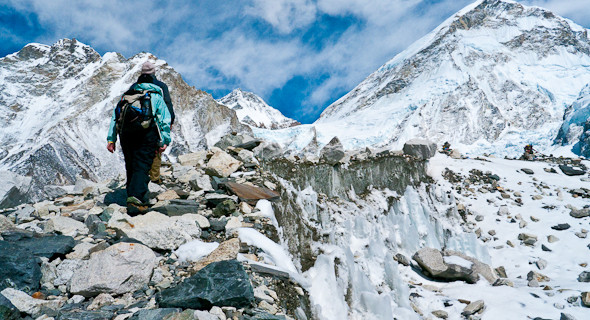 A direct approach to the foot of the world's highest mountain – Mount Everest. A trek designed to get you real close-up to the 'mother of all peaks' Mt. Everest, the highest peak in the world / the head of world.
Mount Everest Base Camp has been a popular destination for trekkers since the very first expeditions to the Nepalese side of Everest in the 1953. To reach this part of the Himalaya within a limited time, we have devised this two week trek to Everest Base Camp which runs directly to and from Lukla.
The Everest Base Camp trek, a very well known mountain trek, starts at the upper Phakding and follows the Dudh Kosi valley which climbs up to the Sherpa capital of Namche, a bustling bazaar that's a junction for trekkers, the local Sherpa and expeditions en route to the mighty Mt. Everest. All along this part of the trail, villages are interspersed with magnificent forests of rhododendron, magnolia and giant firs. In both the early autumn and late spring, the flowers on this portion of the trek make it the kind of walk you will remember for a long, long time.
From Namche, we trek along a high traversing path where we have our first good views of Everest and then head towards Than Gboche Monastery, which is a 2 hour climb. The monastery sits at 3867m in a clearing surrounded by dwarf firs and rhododendrons. The monastery is structurally located on a ridge top with commanding views of the Everest landscape. The view from this spot, seen to best advantage in the morning, is absolutely mesmerizing and stunning and is rightly deemed to be one of the most magnificent in the world.
We then descend to the Imja Khola and continue to the villages of Pangboche and Pheriche before finally approaching the Khumbu Glacier. We then follow the glacier, first to Lobuche, a vantage point for some spectacular views of the Ama Dablam, Taweche and other peaks and then hike to Gorak Shep for a breather.
We also have the opportunity to ascend Kala Pattar [5554m] from where we can get some awesome views of the Himalayan giants which literally numb your senses with breathless admiration that beholds the eye; and makes up for the lung-bursting climb that took you up there. You soon realize it was absolutely worth it. This also includes fantastic views of the south west face of the colossal Mt. Everest. We then trek down to Everest Base Camp at the foot of the Khumbu ice fall before finally making our way back down to Lukla.
TRIP FACTS Trip duration: 16 Day trip grade: moderate to fairly challenging – Grade Explanation Activity: Trekking and Cultural excursion Starts in: KathmanduEnds in: Kathmandu Trek type: TH (Tea House / Lodge) Accommodation: Hotel, lodge (tea house) Transportation: Flight and car Maximum altitude: 5357m
Trekking Itinerary
General Program Schedule:-
1st day: Drive to KTM Airport by car & Flight to Lukla 2:30Hour,Break Fast In lukla (2840 m.) & trek to Phakding Stay Overnight in Phagding 2610 Mt.
2nd Day: Day Trek to Namche 5 to 6 hr.Stay over night in Namche(3440m)
3rd Day: Day Hike, khunde hillary hospital, Khumjung village& more…3780m Stay Over night in Namche Bajar (3440m)
4th Day: Trek to Debocha 5-6hr.Visist Tengboche MonasteryStay over night Debocha(3820 M.)
5th day: Trek to Dingboche 5-6hr.Stay over night in Dingboche, 4410m.
6th Day: Day hike inChukung village and try to hike in Chukung Ri, 5550 mt. back to Dingboche and Overnght there.
7th day: Trek to Lobuche 5-6hr.Stayover night in Louche, 4910 m.
8h day: Trek to Gorak shep, 4-5 hr.Up to EBC, 3hr, 5364m.Stayover night in Gorak Shep, 5140. m
9th Day: Trek to Kala Patthar, Everest View point (5550M.) 1.10 hr.Back to hotel 40 min. & have breakfast, than trek to Pheriche, 5hr.Stay over night in Pheriche 4240m.
10th Day: Trek to Debocha 6-7 hr.Stay Over night in Debocha / Tengboche (3820 M.)
11th day: Trek to Namche  6hr   Stay over night in Namche Bajar (3440m)
12th day: Trek to lukla. Stay over night in Lukla (2840m)
13th day: Fly back to KTM,
For Flight fare and more information Please contact us. essencettt@gmail.com, 24 call +977-9846037116