Annapurna Base Camp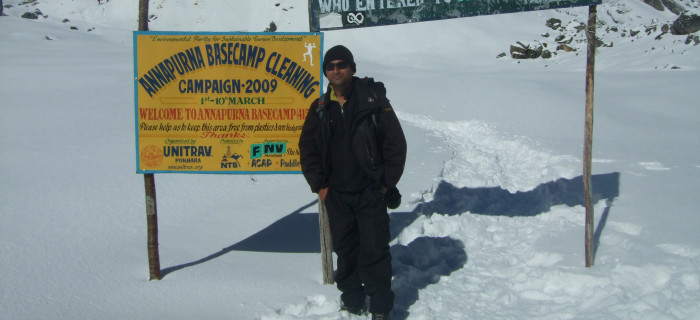 Mt. Annapurna (8091m) is the 10th highest mountain in the world and the journey to its base camp is one of the most popular treks on earth. Like any other trip in the Annapurna region, our trek also begins in Pokhara, widely known as the 'Lake City' and passes through cascading waterfalls, beautiful villages, terraced farmlands, lush rhododendron forests, and amazing mountain vistas before reaching the base of the mighty Annapurna.
The 11-day Annapurna Base Camp Trek itinerary is designed for trekkers who would like to trek to the base camp of Annapurna but are restricted time-wise. If we prefer to reach the Annapurna base camp in a more relaxed manner then, Annapurna Sanctuary Trek-16 days would be more appropriate.
Day to Day Itinerary
DAY 01: Arrival in Kathmandu (1300m/4264ft) Upon our arrival in Kathmandu, a representative from Himalayan Glacier will pick us up from the airport and take us to Hotel Shanker. In the afternoon, we may take a rest or visit Himalayan Glacier's office. Either way, there will be a welcome dinner in the evening where we get to enjoy authentic Nepalese cuisine along with a brief cultural program. Overnight in Kathmandu. Included meal: Dinner D)
Note: B refers to Breakfast, L refers to Lunch and D refers to Dinner
DAY 02 : Fly to Pokhara (823m/2,700ft): 30 minutes and trek to Ghandruk (1940m/6360 ft): 5 – 6 hours. We take an early morning flight to Pokhara, the beautiful lake city and catch great views of the Himalayas from the right side of our airplane. After landing in the Pokhara airport we drive to Naya Pul (1 hour and 20 minutes) and start the trek. From Birethanti, we trek to Ghandruk, a beautiful village mostly inhabited by the Gurung community. If time permits, we also visit the Gurung museum today.  Overnight in Ghandruk.(B, L, D)
DAY 03: Ghandruk to Chhomrong (2170m/7120ft): 5 – 6 hours At this juncture, we climb up for around an hour up to Kimrungdanda. On the way, we can enjoy great views of Annapurna South, Hiunchuli, Fishtail Mountain (Machhapuchhre) and Ganggapurna. Next, it's a steep descent takes us to the Kimrong Khola. After another steep ascent from Kimrong Khola to Chere Danda, we descend for a while then it's a gentle walk to Chhomrong. Chhomrong is a beautiful village located on the lap of the giant Annapurna massive. Overnight in Chhomrong. (B, L, D)
DAY 04: Chhomrong to Bamboo (2310m/7578ft): 4 – 5 hours The trail out of Chhomrong descends via 2500 stone steps and crosses the Chhomrong Khola on a swaying suspension bridge. It is an uphill climb to Sinuwa. Next, we pass through a beautiful forest to Kuldihar followed by an easy downhill walk to Bamboo. Overnight in Bamboo. (B, L, D)
DAY 05 :  Bamboo to Deurali (3230m/10,595ft): 3 – 4 hours We pass through the bamboo forest which is damp and cold then ascend steadily with fewer steep sections. It is only after reaching Himalaya Hotel that the forest opens up and we are out in the sun again with astounding views of the glacial river below. It is a steep climb up through a much drier forest before reaching Hinku Cave. From here we can see the trail drop closer to the river before climbing again to Deurali, the most scenic stretch of the day. The vegetation is sparser, allowing magical views of the valley, the river below, and the sheer rock face cliffs above with bands of wispy waterfalls. Overnight in Deurali. (B, L, D)
DAY 06 :  Deurali to Annapurna Base Camp (4,130m/13,545ft) via Machhapuchhre Base Camp (3700m/12135ft): 5- 6 hours Climb gently through a river bed then over a steep trail over to the mountain side. The hike from Bagar to Machhapuchhre Base Camp is somewhat strenuous. From Machhapuchhre base camp we get excellent views of the majestic Machhapuchhre along with Mt. Hiunchuli, Annapurna South, Annapurna I, Annapurna III, Gandharvachuli and Gangapurna which is certainly a rewarding experience. The vegetation disappears on our way to ABC and the path widens as we enter the Annapurna sanctuary. From here, we get sensational views of the near-vertical south face of Annapurna towering above us. The sanctuary boasts of a dynamic view without anything impeding the 360-degree panorama. From the base camp we again get to savor mesmerizing views of the Machhapuchhre, Annapurna south, Annapurna I, Hiunchuli and other peaks. Overnight at Annapurna Base Camp. (B, L, D)
DAY 07:  Annapurna Base Camp to Bamboo: 7 – 8 hours From the Annapurna base camp we retrace our steps to Bamboo. Today's trek is downhill so it shouldn't be very difficult. Besides, we will always have the company of the extraordinary landscape to cheer us up.  Overnight in Bamboo. (B, L, D)
DAY 08:  Bamboo to Jhinu Danda (1760m/5770 ft): 5 – 6 hours From Bamboo, it is an uphill trek to Kuldighar followed by a downhill walk to Chhomrong Khola. Then we climb the stone steps to Chhomrong. The trail then descends to Jhinu Danda, where we will be resting for the night. Today we will have an opportunity to enjoy hot springs just 15-20 minute downhill walk from Jhinu Danda to soothe our aching body. Overnight in Jhinu Danda. (B, L, D)
DAY 09 :  Trek to Naya Pul then drive to Pokhara: 6 hours trek, 1 hour drive On our way to Naya Pul from Jhinu Danda we get to enjoy the amazing hill landscape of western Nepal. We have lunch on the way. Our trek will end at Naya Pul where we board our vehicle to Pokhara. Overnight in Pokhara. (B, L)
*If the road construction connecting Jhinu Danda to Naya Pul is complete, driving from Jhinu Danda to Pokhara could be another option.
DAY 10: Fly from Pokhara to Kathmandu We fly to Kathmandu in the afternoon. The left side of the airplane offers some amazing views of the Himalayas. Upon arrival in Kathmandu, we will be escorted to our hotel. We enjoy the day leisurely or catch up on some last minute shopping or explore any landmarks we missed during our first day in Kathmandu. In the evening, we will attend a celebration dinner together. Overnight in Kathmandu. (B, D)
DAY 11:  Final Departure Our journey in Nepal comes to an end today! A Himalayan Glacier representative will drop us off at the airport approximately 3 hours before our scheduled flight. On our way to home, we have plenty of time to plan our next adventure in the wonderful country of Nepal. (B)
For more detail please contact us