Dhaulagiri Circuit Trekking : One of The Challenging and Adventure Trek Include 2 passes
Dhaulagiri Circuit Trekking
The Dhaulagiri Circuit journey is challenging, and a genuine experience for experienced trekkers who are trying to find an expedition-like involvement. From cultivating towns within the Himalayan foothills to tall elevated pastures,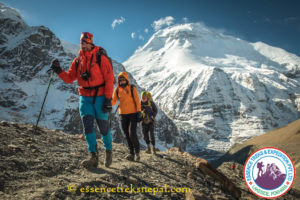 uninhabited valleys and close-up sees of a few crests over 8,000 m, this circuit journey is breathtaking and energizing at each arrange.
Day by Day itinerary Based form Pokhara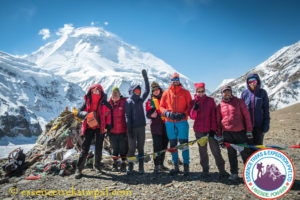 Day 01: Drive to Darbang 107 Km 5-6 Hr. O/N Darbang Village. (Hotel)
Day 02: Trek to Khamla 11 Km 5-6 hr. O/N at Khamla/Naura village (1570 Mt.) (Camp)
Day 03: Trek to Bagar 8 KM 5-6 hr. O/N at Bagar (2080 M.) Camp
Day 04: Trek to Dhovan 8 Km 5—6 Hr. O/N at Dovan 2430 Mt. (camp)
Day 05: Trek to Italian Basecamp 11.3 Km . 7-8 hr. O/N at Italian Base camp 3500 Mt. (camp)
Day 06: Trek to Japanese base camp 7.5 Km, 5—6 hr. O/N at Japanese Camp 4100 mt. (Camp)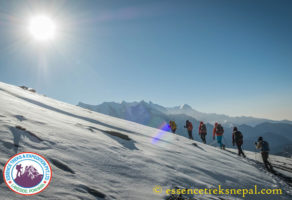 Day 07: Trek to Dhaulagiri Base camp 3.8 Km, 3-4 hr. O/N at Dhaulagiri Basecamp 4550 Mt., (Camp)
Day 08: Trek to Hiddine valley via French Pass (5360 M), 11 Km, 6-7 hr.O/N Hidden valley 5100 mt. (camp)
Day 09: Trek to Elevation Camp 10.5 Km 5-6 hr. via Dhampus Pass ( 5268 Mt)  O/N at Elevation Camp 4560 mt. ( camp)
Day 10: Trek to Marpha 14Km 4-5 hr. Lunch at Marpha, trek/Drive to jomsom, 1hr. O/N at Jomsom 2670 Mt. (hotel)
Day 11: Early morning fly back to Pokhara , Airport Pickup and Drop to Hotel in Pokhara.
Check List: –
Clothing & Equipment Packing List:-
Sun hat, scarf and/or bandanna
2. Light balaclava or warm fleece hat
3. Sunglasses with UV protection
4. T-shirts x 2 quick-drying synthetic
5. Light & expedition weight thermals
6 Fleece jacket or pullover
7. Waterproof shell jacket
8. Down vest and/or jacket
9. Lightweight gloves
10. Heavyweight gloves or mittens
11. Underwear x 4
1 2. Hiking shorts (2)
13. Lightweight hiking long pants
1 4. Light & expedition weight thermals
15. Thin, lightweight inner sock liners (2)
16. Thick, w
arm wool hiking socks (3)
17. Worn in hiking boots and spare laces    18. Sleeping bag
19. Headlamp w/ spare bulbs and batteries
20. Hiking Bag 75 L
4. Basic First Aid Kit/regular medication
21. Day bag   22. Daypack (approx. 2500 to 3000 c.i.)
23. Thermarest sleeping pad
24. One liter water bottles x 2
25. Toiletries
26. Small wash towel
27. Trekking poles (optional)
Fleece or wool pants
 29. Waterproof shell pants
Camp shoes
31. Gaiters 
 Package Excludes:
All trekking permits (Annapurna Conservation Area Project and TIMS)
Flight from Jomsom to Pokhara
Private car for transportation to and from the trekking Airport. & bus/ jeep/van transportation to and from till starting points of trekking Trails
All meals with tea or coffee
Lodge/Camp accommodation during the trek
Trekking with English-speaking guide, Sherpa, cook and porters with full insurances
Package Excludes:
Bottled drinks and beverages
Evacuation (will be done in your account)
Tips (Service Charge in Hotel and Restaurants are included)
Single supplement Charges
Tea breaks, chocolates or other snacks and any meals beside breakfast, lunch and dinner.
Delay and cancellation because of natural phenomenon
Anything which is not specifically mentioned above
More details:
emails us- essencettt@gmail.com, WhatsApp/Viber: +9779856037116 &
For phone call: +9779856037116 ( Ram) or 977-9856048802 ( Ajay)