Private Day Trip to Chapakot-Pame-Pokhara
Pokhara is one of the best tourists Destination of world.  Annapurna Himalayan range and Phewa and Begnash Lake and other

small lakes are making it naturally beauty.  Pokhara itself not very big, it covers 55.22 square Kilometer and almost 300000 of population but around Pokhara we have so many day hike and interesting places. Among many places Chapakot hike is one of the typical and   interesting and easy hikes for a day trip for all kinds of hikers.  From Lake Side, the touristic parts of Pokhara, drive about 30 minute to khadekola few minute passes of the way of World peace stupa. After leave the high way of Lumbini we should more 15 minute drive at rough road and arrive in kalabang. The hike starts from Klangbang.  From the road we work steeply up to hill and we see first view of Mnasalu, Annapurna and Dhaulagiri range from east to west at front.  We can walk at ridge of hill around 45 minute with lake, pokhara Valley and Mountain View in right side and local hills and village at left side, which is most interesting and beautiful part of the hike.  After the Bhumdi village we should Down and during the walking down we pass many local people house and feel like total tradition part.  Around lunch time we will arrived at Pame bazar where the Phewa Lake start and there is so many local restaurants sales local fish. During hike we really touch of tradition of local living of people. You definitely enjoy at natural beauty as well as different living style of people. Is much closed with Pokhara valley but human living style is totally different and tradition.
Program Itinerary
07:30: Drive from hotel to Kalabang
08:00: Arrived at Kalabang
08:00 to 08:15, Hike to hill OF TAREBHIR
08:15 walk at ridge of hill with Lake, pokhara valley and Himalayan ranges view.
09:00 Arrive Bumdi Village, a point of Panchase trek
09:30 Walk down through the local village of Chapakot.
12:00 arrive at Pame bazar and have lunch
13:30 drive to Pokhara
14:00 Arrive at hotel.
Trip Facts:
Departure date: everyday
Starting time: 07:30 am
Place of departure: Lakeside Pokhara
Duration: 6-7 hours
Places visited: Pokhara, PHEWA Lake and BHUMDI-CHAPAKOT-PAME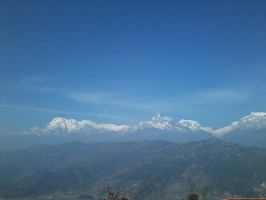 Contact Number: 00977 61462677, 462788
Highlights:
Walk around village at peace environment
Explore Local culture, Tradition and leaving style of locals.
View of three Himalayan range over 8000 meters together.