Tibet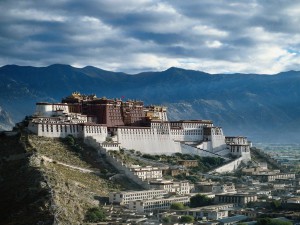 Information about Tibet / Tibet tours
Tibet Tour – 7 night 8 days (drive in Fly out)
Itinerary
Day 01 : Kathamndu to Nyalam, we start our tour with an early morning drive to Kodari, The Nepali border.Weather permitting there will be fine views of Langtang. Gauri Shanker, Melungtse and Khumbu himal ranges. Depending on the road situation we walk or drive up to Zhang Mu where we clear Chinese immigration. After the formalities we continue our journey through a beautiful gorge to Nyalam crossing the Himalayan range altitude 3800m.
Day 02 : Nyalam to Lhatse, our first stop on the Tibetan plateau will be on the 5200m. high Lalung la pass from where we have a breathtaking view of the Himalayan range and shisabangma , the hightest peak in Tibet. While having lunch in lao tingri ,the peaks of mt. Everestand cho oyu can be seen. This day our journey is long but the spectacular Tibetan plateau will make you forget time. Altitude 4000m.
Day 03 : Lhatse to Shigatse, a four -hour drive bring us to tibet's second largest city, Shigatse here we visit Tashilumpa monastery , the seat of the panchen lama hence one of the most important monasteries in Tibet. Altitude 3800m.
Day 04 : Shigatse to Gyantse, After a stroll through the old city we depart for the two and a half hour drive to Gyantse. While approaching the small farming town we can clearly see the old fort that was captured by young husbandduring his 1904 raid into Tibet. Here the main attraction is the Kumbum monastery with its extraordinary architecture. Altitude 3900m.
Day 05 : Gyantse to Lhasa, This will be a long drive, but on the way we cross the Karo la with the beautiful glacier , we see yamdrok tso which is named the Turquoise lake and cross the Kamba la from where we descendto the main road which bring us all the way to Lhasa . altitude 3650m.
Day 06/07 : sightseeing, during these two days in Lhasa we visit the potala palace . drepung and sera monasteries and of course the famous jokhang temple including the surrounding Barkhor.
Day 08 : Flight Lhasa to Kathmandu, we have to get up very early for our transfer to Gonggar airport to catch the flight back to Kathmandu. This flight is one of the most spectaculars in the world with nice views of the Himalayan range including the mt. Everest.
Everest Base Camp Tour – 10 nights 11 days (Fly in drive out)
Itinerary
Day 01: FLIGHT KATHMANDU – LHASA, transfer to the airport for the flight from Kathmandu to Lhasa on China Southwest Airlines. This one hour trans Himalayan Flight will give you an opportunity to have an aerial view of the Mt. Everest and other Himalayan Peaks (weather permitting). Arrival at Gonggar airport around 13.30 hrs. local time. After clearing immigration and customs it will be a two hour drive to cover the 93 km. to Lhasa which is situated at a altitude of 3650 meters (13,000ft). Upon arrival we check in at the Snowland hotel, right in the heart of the old city.
Day 02/03/04: SIGHTSEEING, during these three days in Lhasa we visit the Potala palace, Drepung and Sera monasteries, the Norbulinka and of course the famous Jokhang temple including the surrounding Barkhor.
Day 05: LHASA – GYANTSE, you begin your overland adventure with a full day drive to Gyantse. Along the way you cross the Kamba la (4794m) and the Karo la pass (5010m), both grant spectacular views. After the Kamba la you come to Yamdrok tso, also known as the Turquoise lake. You'll want to have your camera ready. Altitude 3900 m.
Day 06: GYANTSE – SHIGATSE, this will be a busy day. In the morning visit Gyantse stupa and monastery followed by a two hour drive to Shigatse. Here see the giant Buddha in the famous Tashilumpo monastery. The seat of the Panchen Lama. Altitude 3800 m.
Day 07: SHIGATSE -LHATSE, the journey today brings you over two high passes with fine views. For lunch we stop in the small town of Lhatse. Depending on how much time we spend during the morning in Shigatse we might stay overnight in Lhatse. Altitude 4350 m.
Day 08: LHATSE – ROMBUK, begins with the Tsho La (4500m) and ends with the spectacular view of Mt. Everest from Rombuk monastery. Relax tonight at hotel and stroll around the monastery. Altitude 5050m.
Day 09: ROMBUK – LAO TINGRI, get up early and start the 2-3 hour leisurely walk (one way) to the base-camp (5200m) itself. You should return early afternoon to head to Lao Tingri. Lao Tingri is a small Tibetan town that offers the best view, . Altitude 4200 m.,stay in hotel.
Day 10: LAO TINGRI – ZHANG MU – KATHMANDU, make sure you have some photos left for the panoramic view of the Himalayan range as you cross the Lalung lapass (5050m). In the evening relax in Kathmandu.
Lhasa Tour fly in fly out – 4 night 5 days
Itinerary
Day 01 : Drive to the airport for the flight from Kathmandu to Lhasa. This one hour trans Himalayan Flight will give you an opportunity to have an aerial view of Mt. Everest and other Himalayan Peaks. Arrival at Gonggar airport around 13.30 hrs. local time. After clearing immigration and customs it will be a two hour drive to cover the 93 km. to Lhasa which is situated at an altitude of 3650 meter.
Day 02 : We start our sightseeing with a visit to one of Tibet's most important and biggest monastery, Drepung. Beautifully placed on a mountain slope 12 km. outside Lhasa. After returning to the city for lunch we will go to the Norbulinka, the former summer palace of the Dalai Lama. Surrounded by a lush green garden, it's a favorite place for Tibetan people to celebrate their festivals.
Day 03 : In the morning visit the Potala Palace, one of the wonders in the world and one of the marvels of Tibet. This huge structure is the former home of the Dalai Lama and a sight you will definitely not forget. In the afternoon we visit the Jokhang Temple, the most sacred and oldest temple
in Tibet. The walk around it is called the Barkhor and a must for all pilgrims, it is also a famous bazaar for Tibetan handicrafts and antiques.
Day 04 : The morning is free to relax or to explore the small alleys in the old Tibetan part of Lhasa. In the afternoon we will visit Sera monastery, 5 km. outside Lhasa, where we can watch the monks debating. They do this in a very special way by making all kinds of gestures with their hands and arms.
Day 05 : Already the end of our tour and we have to get up very early for our transfer to Gonggar airport to catch the flight back to Kathmandu. We arrive around nine o'clock in the morning because of the 2 hours and 15 minutes time difference with Tibet. Of course we enjoy the spectacular views again while we fly over the Himalayan range.
Detail Itinerary Lhasa – EBC – Kathmandu Mountain Biking Tour
Itinerary
Day 1: Arrive Lhasa (3660 m)
You have options to arrive Lhasa, you can join the trip in Kathmandu and fly to Lhasa or arrive Lhasa from Chengdu, Beijing, Shanghai, Xian or any Chinese Cities. (Please see option detail on 'general information' section)
You will be met at Gonggar Airport by your Tibetan guide. After immigration formalities take a 1.5-hour drive along 93 km road leading to Lhasa lying at an altitude of 3660 meters. It's advisable to rest and take it easy for the remainder of the day due to Lhasa's altitude.
Day 2: Sightseeing in Lhasa
Foremost, your tour begins with a visit to Sera Monastery. An experienced tour guide also working as an interpreter escorts you to this preserved monastery of white-washed walls and golden roofs. Equally adventurous and exciting tempo builds up while touring Norbulingka, the summer palace of the Dalai Lama. Jokhang Temple is another important sacred site which unravels more deep seated mysteries of Tibetan Buddhism. Visit to Barkhor Markets can be quite a change from other visits as you roam around the city savoring every tiny detail from stall hawkers coaxing their clients to purchase their goods to exhibition of Tibetan culture, custom and tradition. Eventually, the tour for the day concludes as you return to the comforts of your hotel.
Day 3: Sightseeing in Lhasa
Like the previous day, you experience invaluable insights during your visits to Potala Palace and Drepung Monastery. This 17th century Potala Palace offers an awesome view of entire city and also has private quarters of the Dalai Lama, numerous grand state rooms and chapels. Ancient history has it that Drepung Monastery which was built in 14th century used to shelter around 10,000 monks but as now there has been quite a declination resulting in only few hundreds. Tibetans' respect and belief are immensely knotted with this monastery.
Day 4: Biking around Lhasa
A final day in Lhasa for acclimatization. This is a day at leisure in which you are free to explore further or ride to Sera Monastery. Afternoon spend in a café overlooking the Barkor and watch the pilgrims as they circumambulate the Jokhang.
Day 5: Bike to the foot of Khampa La (4794m, 80 km, 6-7 hrs)
Mountain biking adventure begins from Lhasa. Cycling past history-laden city of Lhasa, you will transverse through barley fields, traditional Tibetan villages and undulating uphill slopes. Few kilometers ahead, a bridge appears across the river leading to the airport. Chinese soldiers can be seen stationed at the mid-point of the bridge. Turning away from the route to the airport, you have to skirt along another direction following rarely-visited sandy path to Khampa La. The trail meanders through a village of mud-walled houses and pastoral farmlands. You may attempt to interact with local villagers with the assistance from your Tibetan guide. This gives you an opportunity to glimpse into the lives of local villagers. Further ahead, the trail branches into a valley away from Tsangpo and then ascends. You will approach your first campsite on a rocky territory encompassing an area of width 30 meters and height 100 meters. After cycling for about 6-7 hours, you will eventually arrive at the foot of Khampa La (pass) at an elevation of 4794. At an idyllic site, you will camp for the night under starlit sky.
Day 6: Bike across Khampa La (4794m) to Nagartse (4475m, 72km, 6-7 hrs)
A tough climb across the first of six high passes of the trip. If you find it too tough peddling up 4794 meter high pass you can always get on the support 4WD Land cruiser. Once you are on the top of the pass you have a glittering views of Yamdrop tso (lake) and stunning summit of Nanzin Kangsa (7252m). A descent to deep turquoise Yamdrok Tso Lake amidst its exquisite mesmerizing views further accentuates the biking thrill. Nomadic herders and grazing yaks make interesting picture-perfect view en route. After lunch, you will ride along the shore of the lake on sandy roads for about 40km. The trail further continues along ridges in the valley wall with breath-taking views of towering snow-capped peaks as the backdrop. Sooner sheep pastures come into sight. Resting your cycling journey for the day, you set a camp after riding for 72 km up to Nagartse village at an elevation of 4475m.
Day 7: Bike to the foot of Simi La (4330m, 67km, 5-6 hrs)
Barking and howling of Tibetan Mastiff work as the morning alarm in awakening you from your hard earned sleep. Cycling away from Nagartse, the trail progresses towards a valley and to the top of Karo La the first 5000 meter pass of your trip (you have an option to getting on the support vehicle). Crossing Karo La (5050m) you descend to the foot of Simi La at an elevation of 4330m through several interesting Tibetan villages. Basking in the grandeur of surrounding natural exoticism, you will overnight at a superb locale.
Day 8: Bike across Simi La (4375m) to Gyantse (3950m, 35 km, 3-4 hrs)
Today it is a fairly easy and short ride to the top of Simi La at 4375m and then mostly downhill ride into a wide sandy valley towards Gyantse. The trail crisscrosses barley field along the flowing river. Here, you will spot several military and religious sites. You can bask in the sheer pleasure of visiting Pelkor Chode Monastery, and Gyantse Dzong. Pelkor Chode Monastery has ancient murals, thangkas, chapels, mandala and paintings of 84 mahasidhhas in yogic posture. Gyantse Dzong was constructed in the 14th century and offers majestic view of both Gyantse and Nyang Chu Valley. Gyantse Kumbum is one of the major attractions of cultural interest in Gyantse. It houses several chapels and Tibetan Buddhist murals. You will spend the night at comfortable hotel.
Day 9: Tour Gyantse & bike to Shigatse (3900m, 90km 4-5 hrs)
Today's ride is on tarmac following Nyang Chu River to Shigatse, the second largest city of Tibet. En route, you will encounter several trucks, cabs and pedestrians hurrying along the busy streets of Shigatse. There are internet cyber café, many well-resourced shop, restaurants etc. Tashilhunpo monastery, being one of the largest functioning monasteries in Tibet, is a major attraction of Shigatse. Overnight here will be in a comfortable hotel.
Day 10: Tour & rest day in Shigatse
Today is the rest day to explore the local market and Tashilhunpo Monastery. This monastery is one of the largest functioning monasteries in Tibet and there is much to explore within its high surrounding walls.
Day 11: Bike to the foot of Tso La (4290m, 106 km, 8-9 hrs)
The road being bumpy, loose and dirty, you may find the ride strenuous. Following the Friendship Highway, you will gradually climb to the foot of Tso La where you stay the night at tented camp.
Day 12: Bike across Tso La (4500m) to the foot of Gyamtso La (4630m, 70 km, 5-6 hrs)
A fairly easy eight kilometers ride brings you to the top of the Tso La from where you will have a clear view of the main Himalayan range. A brief stoppage at the top of the pass follows a thrilling downhill ride to the small town of Lhatse. After lunch at riverside the biking trail gains gradual climb to the foot of Gyamtso La at 4630 meter where you camp for the night.
Day 13: Bike across Gyamtso La (5220m) to Shegar (4050m, 65 km, 7-8 hrs)
The Gyamtso La at 5220 meter located approximately 15 kilometers from the campsite, is the highest pass of this biking adventure. The trail to the top of the pass passes through steep and rough slope. From the pass it is steep downhill ride amidst stunning views of Mt. Everest, Lhotse & Cho Oyu. Riding past small Tibetan settlements, nomadic herdsmen make your journey even more eventful. After arriving at a small Tibetan Town of Shegar. After peddling a few kilometers you reach your camping site.
Day 14: Bike across Pang La (5150m,) to Choesang (4455m, 60 km, 6-7 hrs)
Today you will detour away from the main road to Everest Base Camp. The biggest hurdle of today's ride is
Pang La at 5150 meter. Approximately 2-3 hrs peddling along the dirt road into the north base camp of Everest brings you to the top of Pang La. The road zigzags across the back wall of the valley overlooking stunning view of the pass. The view from the top of the pass is breathtaking with the whole Himalaya range gleaming right before you. The tough climb to the pass follows an excellent downhill ride to small Tibetan settlement where you camp for the night.
Day 15: Bike to Rongbuk (5000m, 24 km 3-4 hrs)
The trail along the river for first few kilometers is fairly easy as you head toward Rongbuk valley. This ride gets quite pleasurable as your eyes savor the breath-taking view of glaciated valley. Yak-skin tents and grazing yaks can be viewed on the other side of the valley. Within few hours along Rongbuk Glacier, North Face of Everest becomes visible flaunting its unparalleled beauty. Rongbuk Monastery lies ahead 8 kilometers below Everest Base Camp at an elevation of 5000m, at the foot of the Rongbuk Glacier.
Day 16: Bike or hike to Everest North Base camp (5200m, 8 km each way)
After taking a well-deserved rest, you can indulge in the exoticism of exploring mystiques of Rongbuk glaciers. It is an 8 km each way walk along dirt road to the base of Mt. Everest. You ascend to the moraine and shortly encounter a nunnery ruined during the Cultural Revolution. A small hermitage is nestled in the vicinity. A few hours of ascent eventually brings you to the Everest Northern Base Camp. No matter how much difficulties and challenges you may face along the trail, once you see the mighty Mount Everest your tiredness instantly elopes and you feel so much blessed as you savor this blissful sight. After photographic moments and exploration, you retreat back to your camp.
Day 17: Bike or drive across Pang La (5150m) to Tingri or Hot Springs (4350m, 75 km, 6-7 hrs)
Since it takes lot of time on a bicycle to reach to the top of Pang La, it is best to drive up to this pass and bike down to Tingri. The trail leading to Pang La is extremely rocky and bumpy. Soon after arriving at Pang La, you collect your cycling gears and start peddling down the steep trail. Shortly, a boulder comes en route and the trail gets rougher as it follows rock-strewn path. The trail descends to a series of sandy ridges which cut along the edge of a river gorge. Further down, you will meet a stream. This adrenaline-fueled ride continues past pristine hamlets and lush barley fields. After coming close to Tingri, if you look back you can catch a stunning sight of majestic Everest and Cho Oyu. The dirt road turns into a paved road as you will enter a small town of Tingri which is an unsheltered and windy settlement nestled underneath the enchanting Cho Oyu. Your overnight camp will be at a small village where you can take bath in a natural hot spring.
Day 18: Bike to the base of La Lung La (4555m, 55 km, 4-5 hrs)
The ride to Lalung La base offers unbeatable pleasures and adventures. Starting with a little uphill climb you make your way along the edge of the valley following a river and at some point you will see the river branching into a lake sheltering a variety of Himalayan ducks. Meandering past the valley floor of grazing yaks, mud bricks, small traditional villages and ruined monasteries, the trail narrows to a gorge making you ride into the headwind for another five kilometers. Views of Everest and Cho Oyu from your lunch stop is simply amazing! Riding a further 15 km brings you an excellent campsite at the foot of La Lung La with green grass and crystal clear mountain rivulet.
Day 19: Bike or drive across Lalung La (5124m) & Thang La (5200m) to Nyalam (3750m, 87km, 7-8 hrs by bike.
Climbing double pass today calls for real hard work. It is approximately 15 km uphill peddling from the campsite to the top of the first pass, La Lung La at 5124 meters which offers excellent views of Shishapangma, Cho Oyu, Menlungtse and Gauri Shankar. A six kilometers downhill ride and a further seven kilometers uphill climb brings you to the top of the second pass, Thang La at 5200 meters. If you find it too much to peddle uphill you have an option of getting on the support 4WD Land cruiser. After spending some heavenly moments at the top of the pass you begin what we call 'the world's longest downhill' biking adventure. A long pleasant downhill ride amidst superb mountain scenery brings you to a village near Nylam where you camp for the night at 3750 meter.
Day 20: Bike to the last Resort in Nepal (900m, 60 km 3-4 hrs)
Heading away from Nyalam, you ride along the steep road dropping down through the gorge. The trail meets a glacial stream and turns back crossing the river. A further 15 kilometers of cycling brings you amidst the verdant vegetation and a little further ride brings you to the Chinese border town of Zhangmu at 2300 meter. Making your way through traffic and modern concrete block buildings perched on the slopes, you will head towards Chinese customs where you are required to handle re-entry formalities to return to Kathmandu. Once you are done with this official procedure, you advance towards 12 km descent to the river and the bridge to Nepal. The trail that follows at this point onwards is muddy, steep and rocky. You may encounter several jeeps on the way. After bidding your Tibetan guide and driver farewell, you will descend to the river valley. Initially, the trail gets rocky but later eases when it enters paved road after 20 kilometers of descent. Utmost careful safety measures should be adopted as there are chances of washouts occurring at any time while riding along this steep muddy trail. Further down, a village springs into picture. As you make your way to the entrance of the town, you will experience many speed breakers. The trail then opens into rich verdant valley with rice terraces surrounded by green hills. After a sumptuous lunch at tranquil 'the Last Resort' you can stroll down the river or spend the day relaxing by the river admiring surrounding views of lush green hills with a bottle of beers or two.
Day 21: Bike or drive to Dhulikhel (1450m, 75 km, 5-6 hrs by bike), drive to Kathmandu (30 km, 1 hr)
Today you have an option of driving all the way to Kathmandu or bike up to Dhulikhel and drive to Kathmandu. Ride is on tarmac with occasional steep climb, the large section of the road follows Bhote Koshi river through lush green beautiful Nepalese countryside.