India
India, officially Known as Republic of India' (in Hindi known as Bharat or Hindustan), is the seventh largest and second most populous country in the world. India is vast and has a huge population of 1 billion. At times it can feel as if the whole population is in the same place at the same time as you! You will become fascinated with India, its cultures, its people, and the continuous stream of activity going on around you. India is bordered on the north by Pakistan, China, Nepal, and Bhutan; on the east by Bangladesh, Myanmar (formerly known as Burma), and the Bay of Bengal; on the south by the Palk Strait and the Gulf of Mannar (which separates it from India) and the Indian Ocean; and on the west by the Arabian Sea and Pakistan.
At one point, 'Lands End' at Kanyakumari, three seas meet – the Indian Ocean, the Arabian Sea and the Bay of Bengal. The sights, sounds, and scenery of India are unique and amazing with grandiose temples, lush paddy fields and stunning beaches. In the north, Shrub-land and desert create a sublime backdrop and a visit to the 'Golden Triangle' (Delhi/Agra/Jaipur/Delhi) will take your breathe away. It is divided into 26 states and 6 union territories, and has 17 major languages with 844 dialects, making this country and its people culturally diverse. Religion plays an important role in the life of the country, and is one of the few countries in the world which have such an ancient and diverse culture. Their arts and crafts are world renowned with sport being one of their favorite past times, and cricket still acting as one of the most popular activities.
We operate Trekking tours in famous area of India those area shortly describe as below:-
Ladakh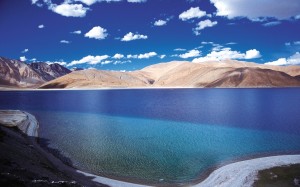 Ladakh is bounded by world's two mightiest mountain ranges the great Himalayan and the Karakoram, It lies athwart two others The Ladakh and the Zanskar range. It lies at altitude ranging from about 2,750m to 7,673m. The temperature in summer goes upto 27C and in winter it drops down to minus 20C. Monks at Thiksey Monastery hermits and Nuns. Islam came to Ladakh from central Asia and Kashmir after 15th century AD. Now the Kargil, Drass and Suru valley is populated by Shia and Sunis are in Leh and Kargil in smaller scale. It leaves the first time traveler awestruck by its geographical and cultural difference as they land at Leh. The features of Ladakhi people, their clothes, dialects are similar to Tibetan and Mongoloid then Indian.
The Mons from Kullu and Tibet were the first population immigrants to Ladakh as shepherds' nomads and settled down near Indus River. Later drads and others immigrated to Lower Ladakh. Due to cultural and geographical similarities Ladakh is popular among tourists as Little Tibet. Buddhism is the dominant religion in Ladakh while Kargil district is dominated by Muslims and Buddhist. The approach to Ladakh is invariably marked with many walls that are long upto 2 to 3m, decorated with engraved stones bearing the mantra "Om Mani Padme Hum" and Chortens which symbolizes Buddha's mind . The Villages and Mountains are ornamented with gonpa or monastery residing thousand of Buddhist monks. The land of high pass- is the trans-Himalayan zone which marks the boundary between the peaks of the western Himalaya and the vast Tibetan plateau. It is a region that naturally bends itself to exceptional treks which can still avoid roads for weeks at the time.
Sikkim
Sikkim the former Tibetan Buddhist Himalayan kingdom – is without doubt one of the most spectacular regions in the world. For years, it was considered one of the last Himalayan Shangri-La because of its seclusion, magnificent mountain land, and ancient Buddhist monasteries. Sikkim's natural beauty of cascading waterfalls, vibrant terraced hills, pristine lakes, and snow-capped peaks offer a rare opportunity to experience one of the most inspiring environments in the world. Over time, the peaceful tenets of Buddhism have produced a humble and friendly people who truly enjoy sharing the unique treasures of their rich heritage. Their culture comes to life in art, mysticism, music, architecture, and religious traditions. In Sikkim, you will meet local artists and artisans in their studios and learn the timeless traditions of creating sacred art.
As you explore the centuries-old monasteries, you will receive lectures from lamas and monks who impart their in-depth knowledge and personal experience. Your exciting tour also includes a visit to Darjeeling, one of the most charming towns in the eastern Himalayan foothills. Established by the British in the mid-19th century, Darjeeling is situated on a 7,000-foot ridge. It is surrounded by tea plantations and offers stunning Himalayan vistas including the 28,201-foot Kanchenjunga – the world's third highest mountain peak. We invite you to explore Sikkim's breathtaking landscape and fascinating Buddhist culture and discover why this is truly a remarkable part of the world. Join us and see why a Wisdom Tour offers a rewarding cultural exploration of the many facets of Tibetan Buddhist life, spirituality and history.
If you wish to Travelling into India for trip to Ladakh, Sikkim or any assistance you may need to travel to any part of India do not hesitate to contact us at any time.